Branding Strategy and Marketing Topics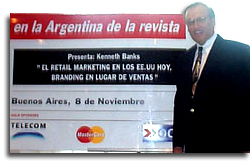 Each presentation is tailored to the audience and theme of the conference. I make sure that we are hitting the topics of most interest to the attendees.
Filled with case studies and examples to drive home the point, each presentation has marketing video inserts to keep the audience alert and entertained. Half-day seminars, workshops and executive retreats are also available.
Target Audiences:
●    Marketing and Advertising ProfessionalsRetailers, Service industry Outlets, RestaurantsMedia organizations
●    Consumer goods manufacturers and marketers
Here are some current topics:
BRAIN BRANDING–EXPANDING YOUR BRAND'S APPEAL TO REACH MORE OF YOUR TARGET AUDIENCE
DEVELOPING A BRAND STRATEGY FOR YOUR STORE
It's not just a new name. It's not simply a new slogan. It's not just awareness. The brand must have an emotional bond with your target customer. In this presentation, a five-step process is described on how to effectively develop a brand strategy for the company and then how to make it come alive with the customers and with your associates. Case studies are included to show how some stores outperform their competition by having a better brand strategy that's recognized by the consumer. It is the key to success for any consumer product, store or service.
GROWING MARKET SHARE IN TOUGH ECONOMIC TIMES
Despite problems with the economy, world terrorism and slumping consumer confidence, some stores continue to grow their business consistently. Taking a look at how they do it and how they strengthen their brands show that successful stores live up to their strategy everyday in every store.
WHAT SUCCESSFUL STORES HAVE IN COMMON
The stores with a future share a lot of the same critical characteristics for success. These have been identified by Dr. Leonard Berry, Director of the Center for Retail Studies at Texas A & M University, and in this presentation we look at how these companies market themselves better. They do it by capitalizing on their unique strengths and appeal to the customer, and then they do breakthrough advertising. Stores–or brands–that don't meet these criteria don't stand a chance no matter how good their advertising is.
CREATING A MARKETING VISION
What good is a map if you don't know where you're going? In this presentation, I look at the steps necessary in creating a vision for a retailer or consumer-goods company. Not only is it important to look ahead, but to also objectively assess the current situation and market position. In this presentation, we look at 3 case studies in three different industries on how following this process made the difference in a successful marketing program.
HOW TO REACH CUSTOMERS WHO DON'T READ YOUR ADS
Location. Location. Location. Convenience may be important, but what if the competition is just as close to the customer. What does it take to create a preferred share of mind with the customer. An example of how to go beyond price and convenience to grow a business in the 90's.
ACT LIKE A STORE-THINK LIKE A BRAND
Marketing a store is no different than marketing a packaged-goods product. You have to go beyond price promotions and create a loyalty among your target customers and a brand preference. It takes more than just advertising. It takes a comprehensive marketing plan and multifaceted program to keep your store on the top of the customer's mental shopping list.
DARE TO BE DIFFERENT-BUT CHECK WITH THE CUSTOMER FIRST!
Creativity is important. However, you have to do your homework first. How to get to know the customer and then take risks with great creative advertising. A look at how several retailers break through the advertising clutter by researching the market first and then executing. A look at eight reasons not to be different and if you listen to the internal experts, your store will look just like the competition.
MARKET RESEARCH–NOT JUST A NUMBERS GAME
How several successful retailers use various types of research to get to know their customers better. It's more than statistics — it's building an action plan based on what the customer tells you about your stores and the competition.
WINNING THRU ADVERSITY
How many companies used a strong marketing plan to overcome adversity in the business to achieve success. Despite market slumps, hostile takeover attempts, chapter 11, etc., a marketer can succeed with a great plan and a willingness to take risks.
"SHOW ME THE MONEY?"
A look at how successful stores market themselves to the target customers who have money to spend while others become enamored with demographics and psychographics that represent customers who don't have neither the cash nor the credit to be a significant factor with sales.
"WHY DO SOME STORES KEEP THEIR CUSTOMERS COMING BACK WHILE OTHERS STRUGGLE TO SURVIVE?  WHAT'S THE SECRET?"
Despite the events of the past few years, despite a sagging economy, despite a  consumer jaded by all of the retail competition, some stores continue to perform successfully.  These stores were strong a year ago because they had developed a relationship with their customers that is strong enough to keep them coming back regularly.  At the same time, other stores have struggled and keep blaming the outside factors for their weaknesses.  In this presentation, Ken Banks will take a look at what it takes to be successful today…from the marketing strategy to the service on the floor…and how the winners get their customers to keep on spending at their stores.
At the June National Speakers Association-Central Florida meeting, Ken was awarded the George Morrisey Lifetime Achievement Award which is awarded by to a member of the chapter whose achievements as a professional speaker are meritorious. Thanks to the chapter for its recognition and to George Morrissey for his inspiration.