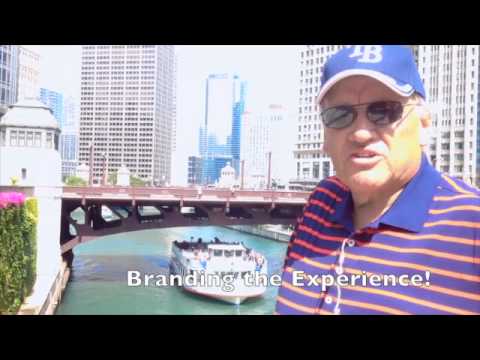 PRESS PLAY>> TO VIEW THIS MONTH'S VIDEO MESSAGE FROM KEN
I'm always amazed at how branding discussions seem to immediately require a new
name, slogan, design, or packaging. All at a competitive price, of course. It was interesting then when I made the trek up to Chicago a week ago to see my Tampa Bay Rays play the Cubs. Frankly, the games were secondary. I really wanted to go to see Wrigley Field, which just happens to be celebrating it's 100th Anniversary this year. After taking the Red Line train to the ballpark and entering into the bowels of this historic ballpark, I was taken back to a time when baseball was king and everyone knew the lineups of every team and the stadiums in which they played. The weather was great. The games were competitive (they split the two we attended), and Wrigley was everything I expected from the ivy-covered outfield walls to the manually operated scoreboards they you could barely read from home plate. Coming from a market where everyone is clamoring for a new ballpark (to replace our 20 year-old dome which works perfect in the Florida heat and rain, but that's another subject). In all, it was a great experience from the smell of the Italian sausages to the singing of "Take me out to the Ballgame".
Rays manager, Joe Maddon summed it up best when he reflected on the first 3 games that he ever attended at Wrigley when he said: The games are great, but the key to this ballpark is the experience of playing here. It's historic and a pleasure. That's when I understood why Chicago fans continue to fill the stands year after year, while the Cubs continue to lose year after year. It's the experience of just going to the game that is special. To me, Wrigley Field is not just a stadium; it's a brand that promises a baseball experience unmatched (Red Sox fans may dispute this) by any other venue in the major leagues of any sport. A brand must create a pleasurable experience for its customers to survive and succeed through all of the changes in market trends and consumer interests. Wrigley has done that and so have the brands that consistently maintain loyalty (or a cult following, as BJ Bueno has written). To build an enduring relationship, the experience has to be special and exceed your expectations. Disney has done this since its inception. Nordstrom's has succeeded while most department stores have faded away by providing a special experience with each shopping trip. Ruth's Chris Steakhouse provides a special experience that goes beyond the best filet mignon in the country. It is all about a special, satisfying experience that builds a loyalty to the brand.
Speaking of the experience, we visited the American Girl store in Water Tower Place in Chicago (our granddaughter's favorite place in the world) and talk about an experience! We were there on a Monday and the place was packed with 5-8 year-old girls accompanying their dolls (or girls as they call them) on a special shopping trip.   Parents and grandparents were there too to pay for everything, but it was fascinating to see how AG has built an outstanding brand by building an experience for dolls that is so realistic and special that price is no object. Weather it's getting an outfit for gymnastics or camping, they have it all and the girls love it. Need a new hairstyle; they've got a salon with specialists who can make that synthetic hair glow. Lunch? There's a restaurant just for you and your dolls with special seating for the little ones. Even the rest rooms have special amenities for the American Girls while their live friends take care of business. The division of Mattel (what a sequel to Barbie!) now has 19 stores which offer what it calls "experiential retail" and if you look at their website for each store your daughter can choose from all kinds of experiences from birthday parties to a night out with your "girl" (for $195-240 per person). Starting out as a catalogue retailer, the company has created a cult brand that "inspires" their customers not just sell them a doll and its accessories. Their online business flourishes with an easy way for grandma to get just the right birthday or Christmas present without having to find a store. American Girl has learned that the brand is an experience and the more exciting they make it; the more loyal is their customer (and her parents).
Whether it's baseball or dolls, creating a memorable experience is the best way to build a relationship that makes a brand really special—and successful.