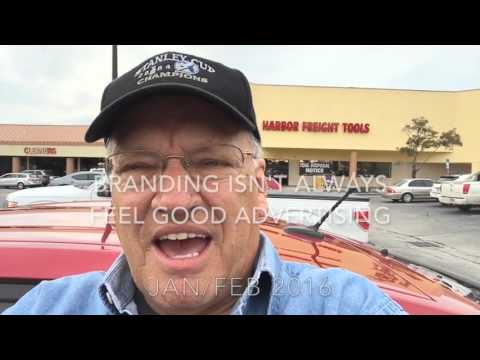 PRESS PLAY >> TO VIEW THIS MONTH'S MESSAGE FROM KEN.
This year marks the 12th year that I have been sharing views on branding, marketing, retailing, internet…and whatever else pops into my head as I scan the American marketplace for successful ideas on winning more loyal customers. During these years, I've talked about a lot of different types of businesses. Some are real success stories. Some have failed and have disappeared from view—never to be shopped or purchased again. Most of the time, I feature brand concepts that are communicated via outstanding creative executions that win over the hearts and minds of the customer as much as their wallets. To be sure it is the stories behind the brand strategy that make for memorable marketing and loyal customers.
This month, however, I'm featuring a retailer who has been a real success story, selling stuff that's not very special, to people who just want what they need for a specific task at a really low price. There are no Addy Award winning campaigns here. Nor are the stores going to win any praises for design or emulation of graphics and displays. Just tools. Let's take a look at one of my favorite stores—Harbor Freight (see http://harborfreight.com).
No, Harbor Freight isn't special because yours truly is a great handyman or do-it-yourselfer. I found the store quite by accident when they opened near a Sushi restaurant that I used to visit frequently. I was surprised at how many things they sold that I had no idea what they were used for. Nor was I aware how many sizes and shapes of drill bits existed in this world. The stores are clean, neatly organized, well signed. The merchandise—most of which is private label product from China—is well displayed and designed. The prices–even for one who rarely shops for tools—are obviously deep discounted compared to Sears or Home Depot.
Then, there's the advertising. Oy! Nothing special here. Except consistency. Always price promotions. Always a 20% discount. Always a free with purchase item or two that just happens to be something that you could really use (like a flashlight, or battery checker, or screwdriver set.   The discounts are real. The sale periods are limited and enforced. The offers are everywhere. In the newspaper every week. In ValPak mailers. In direct mail catalogues. Online. In Parade magazine or tucked into the freestanding inserts. The graphics are not exciting but are consistent with the store. Well organized. Strong pricing statements. Easily understood discounts.
The products are well made and tested in their own quality test labs called The Workshop (https://youtu.be/_xDFCBPQJXs?t=2)The warranties are real and the 100% Satisfaction promise is enforced. Returns are easy. The people are knowledgeable enough that you can find just what you need.
And it all works. Harbor Freight now has over 600 (with a new one opening every 3 days) stores doing over $2 Billion in annual sales. In the process, they have built a brand that may have surpassed in loyalty the Craftsmen brand that led to Sears' success over the years. I believe the brand has thrived because of the consistency of the message, the stores, and the product every day. Check out their About Us video on their website (after the typical sale ad on the home page) to hear a great example of a brand strategy and how they live up to it every day.