PRESS PLAY>> TO VIEW THIS MONTH'S WELCOME MESSAGE FROM KEN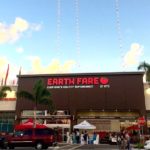 Walking through the crowded aisles at the brand new Earth Fare store that just opened near me last week, I was impressed first by the amount of customers and then by the selection of organic and home grown products that were offered. It reminded me of my first trip to Trader Joe's several years ago on the west coast or more recently to my initial visit to a Whole Foods in Detroit a few years ago, interesting, exciting, a sense of discovery. Not that we'll shift our food shopping from our favorite Publix store, but this new store was a refreshing change in the shopping experience. Even though the store's outdoor sign said it was established in 1975, the concept is new and refreshing and it capitalizes on the major trend in consumer preferences for natural and organic products in an innovative environment.
I was particularly impressed by the number of branded products lining the shelves and the coolers that I had never heard of before. Food stores have long been the home to Consumer Packaged Goods that have dominated the marketing media in the battle for market share. However, here the selection was based more on innovation and niche product benefits that the customer will seek out once they have loyalty to the store brand and what it stands for. In my branding articles and books, I always stress the need for communicate the products unique value and benefits in order to create a successful brand. However, sometimes you can't afford the expense necessary to build awareness or be able to communicate your unique selling proposition. That's when it becomes important to seek an established brand to help your brand by association.
Just as soft drink companies sign long term contracts with fast food restaurants to build their brands, lesser known brands seek preferred status in distribution. Certain wineries seek to be on the wine lists and popular restaurants to build awareness and preference. Electronics companies, like Infinity, supply the multi-media equipment in popular auto models. Bedding companies tie in with major hotel chains to add value to their brand as well as the hotel owner's. In my drug store days, we sought out the support of Good Housekeeping to put its seal on our private label products to add credibility and value. JetBlue enhanced its service reputation by adding Dunkin Donuts brewed coffee on all their flights. Nike built its brand by sponsoring major sports teams and golfers to insure that their swoosh logo was visible with an implied endorsement.
This is what's happening in Earth Fare where hundreds of homeopathic drugs and supplements line the shelves with the only sales pitch being "try this because we sell it here. So it must work." We are reliant on the store to substantiate our choice of certain products. If this brand, that I believe and trust, sells it, then it must be good.
As the brands grow and develop a loyal customer base, the complementary benefits work both ways and the brands continue to grow successfully together.