PRESS PLAY>>TO VIEW THIS MONTH'S WELCOME VIDEO
BRANDING AT THE STORE
For many years now, I have used Disney as a great example of an excellent brand that keeps on improving itself.  Living only 90 minutes from Walt Disney World has not only been convenient but it also affords me the opportunity to visit regularly and observe first-hand how the company improves those things that just don't seem to work or appeal as well as the standards that we've come to expect from Disney.
A few days ago, I decided to visit Disney Springs—the new and improved version of the Downtown Disney area near the Orlando theme parks.  To be sure, Downtown Disney was pretty exciting when it first opened over 20 years ago, but after a couple visits it never seemed to hold the appeal or excitement to warrant a return visit whenever we visited the other attractions at Disney.   Well, welcome to Disney Springs—what an improvement.
Disney has not just updated the area, it has re-invented it and made a new destination for central Florida visitors and residents alike.  Great new restaurants, a market place that competes with some of the best in the country, new attractions and plenty of parking make this an exciting stop for a great time and outstanding marketing.  One of the highlights in the Market Place was the UNIQLO store—the Japanese fashion store that has aggressively become one of the top retailers in the world and definitely the largest fashion store of its kind anywhere.
UNIQLO has grown world-wide to almost 1800 stores with over half of them in its home country of Japan.  There are 45 now in the US as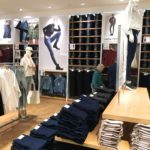 the company has moved toward larger stores in larger markets and has grown its sales to over $16 Billion (if my yen/dollar conversion is accurate).  These are exciting numbers, but what's really exciting is the in-store experience.  UNIQLO's theme for its Life Wear is "Simple Made Better" and the simplicity of the store is apparent the minute you walk in.  With merchandise displays that make an immediate statement of volume and color that only exceeded by the neatness that is a constant.  The training of employees on how to fold the clothes is legendary and is only superseded by customer service commitment that provides friendly faces who seem to be everywhere straightening and colorizing while helping anyone in sight.
I was surprised and impressed by the overpowering display of foldable winter quilted jackets and coats as I walked in from the Central Florida heat. They came in a variety of colors, they light-weight, warm and fold up easily to fit in one's purse or backpack.  And…they are priced to make you stop and say how can they do that for such a low price.  Well, maybe it's world-wide production or maybe the "Made in Vietnam tags"!  I asked one of the staff if they really sold that many of these coats and jackets here in Florida, and she said "Oh yes.  We have a lot of Brazilian and other South American tourists here and they buy them to take back where winter is coming soon.  The company knows its markets and has partnered with its suppliers to develop state-of-the-art fabrics that fit the lifestyles.  I don't wear many turtlenecks anymore, but when I felt the light-weight, super dry HEATTECH fabric and then looked at the $18 price tag I was sold.
UNIQLO builds its brand at store level every day.  Its flagship stores in major cities, are not just revenue producers but they are brand
communicators that say a lot about the company's culture and its strategy.  When CBS Sunday Morning did a feature on the store a few years ago when it opened in New York, the company's COO demonstrated a mirror that could show you the various colors of whatever garment you were wearing without ever having to take it off.  UNIQLO plans to be at $50 Billion in sales in the near future.  With stores that build the brand and make shopping exciting, there's no doubt they'll exceed that and their customer's expectations.