I was saddened—though not surprised—to read about the closing of The Sports Authority and its pending liquidation.  While a letter from the CEO says that only 140 of the 463 stores would be shuttered now, public statements from the company's attorneys and financial releases indicate that the company will soon disappear. The agreement (announced today) that the stores have been sold to a trio of liquidation firms confirms the fact that this once respected brand will  soon be a memory.
As I said, I was saddened because about 20 years ago, I was offered the top marketing job at Sports Authority and except for what seemed to be a better offer (can't tell a book by its cover) from Circuit City, I would have accepted the opportunity.  I was impressed to say the least.  Having just broken way from the grasp of Kmart (another brand in jeopardy now), Sports Authority had a lot of good things going for it at the time.  A great brand name that personified its brand strategy.  Well-merchandised stores that brought great selection at lower prices to categories that were booming at the time.  Well-positioned locations that provided excellent traffic and visibility in well-targeted areas.  A strong management team, led by the company's founder, with a focused vision on where it wanted to go, also developed an effective marketing strategy that mixed great positioning with strong promotions.  Plus, it was based near Ft. Lauderdale, just across the state from where I was living so commuting was possible until I got settled.  I have to admit that when the Circuit City deal didn't work out, I had a lot of second thoughts about that career decision!
Sports Authority Field at Mile High, Denver
The company built itself on an effective positioning campaign using well produced, effective broadcast and timely promotions.  More importantly, it had aggressively sought to have the Sport Authority logo placed in highly visible locations in sports venues in all major sports.  Shots of the end zone for NFL, there was the logo.  Sideline scorer's table shots at NBA games, Sports Authority was right there.  Baseball outfield walls, NHL boards, college stadiums—the company's presence verified that it was the authority on sports gear.  Even as the company grew and stumbled, its sale to Gart Sports in Denver seemed like another smart move.  The company was consolidated in Denver and changed names to The Sports Authority since there was so much equity in the brand.  Unfortunately, that's where it ended.
The company's marketing became dominated by nothing more than boring sale ads and promotions.  It's website was developed, yet not much more exciting than its print with little or no promotion driving customers online.  More importantly, the stores were boring as well.  Selections of athletic shoes were no better than most athletic footwear stores. Golf was sub-par to Golfsmith.  Cycling failed to capitalize on the growth of this activity.  Fishing was meager compared to Bass Pro and Cabela's.  Camping ditto.  Traditional sports like baseball, football, tennis, soccer were not much better than Wal-Mart or Target.  Then, there was the in-store experience.  The only authority was on the sign outside the store.  Sales help was disinterested and about as knowledgeable as your neighbor.    Inventories were obviously being cut back and selection and sizes were insufficient to meet demand.
The stores in fact were boring.  They did strike gold with buying the naming rights to the Denver Bronco's stadium at Mile High just in time for the Super Bowl championship season, but by then it was too late.  The brand had awareness but not much value.
 Bass Pro Shops–Brandon, FL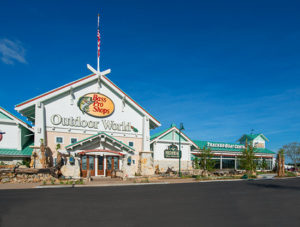 Before writing this article, I visited the newest Bass Pro Shop location in the Tampa Bay area and it was obvious why Sports Authority was fading fast.  The Bass Pro shop was an exciting experience.  Huge displays, interesting experiences, valuable in-store events.  Then there is the selection from more fishing rods than I have ever seen to more cammo gear than in a military post.  From boats to ACV's and with a restaurant that's worth making the trip just for the menu, Bass Pro gets it.  And it's always supported by an effective, on-target marketing campaign.  Across the road was a new Dick's Sporting goods and while not as over-powering as Bass Pro, it was everything that Sports Authority should have been but wasn't even close.    And Dick's marketing is as good as Gatorade or Under Armor in creating a relevant, adifferentiated brand of stores.
So, it's strike three on Sports Authority and a good lesson learned that you have to consistently cover all the bases, outsmart the competition, and build a great team to keep a strong brand alive and well.