Driving around Sonoma County again this month, I never cease to be amazed by the number of vineyards that  cover the landscape in valleys, hills, and canyons almost everywhere you look.  Going up the narrow, winding road to our rental home, I was surprised to find small vineyards with no signs or identifications around every bend and I started to wonder how some of these wine growers and makers survive in this ever-growing competitive industry.  One only has to walk through a Total Wine & More super store or even the wine aisle at Publix to see that wine brands far outnumber the brands of cereals or frozen foods that make up so much of the revenue of today's grocers.  In an industry that has been dominated by large wine conglomerates like Diageo, Constellation, The Wine Group, or Gallo who now make up more than half the wine business nationally,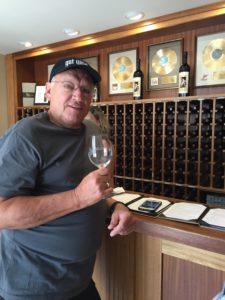 I wondered how do small vintners succeed in gaining shelf space and share of market.  I asked Wayne Fieldsa, a small, family-owned Sonoma vineyard owner, who stopped bottling his own wine a few years ago and now supplies grapes to other winemakers, what it takes to succeed in today's wine market.  He conceded that the large companies will continue to grow and acquire small wineries that have developed successful brands just as the major breweries have taken over many craft brewers around the country.  However, he said that there still is plenty of room for wines that create a niche for themselves and a brand that is distinguishable.  For example, he specialized in Syrah grapes and produced some award-winning varietals that helped gain
distribution and loyal customers.  One only has to glance at the labels on the endless shelves at the aforementioned retailers to see there are some interesting names and designs on most of the bottles.  Yet, there are some that continue to grow by building their brands with more than just a nice tasting room or marketing campaign.  Much of it is due to the obsession of the winemaker to produce something unique that their customers want and will go out of their way to keep in their wine coolers at home.  Wineries are some of the most successful CRM marketers with their wine clubs and special mailings that keep customers ordering often and in large quantities.
So size isn't the only factor for success here and it's not in many other competitive industries.  I think about the hamburger shop in a non-descript strip center in my neighborhood.  Despite having all of the national hamburger chains within a tenth of a mile of their hidden location, the shop has a loyal family business–built  on a brand of fresh beef, grilled to order, with hand-cut fries and  fresh fish and chips.  The owner runs the place and grills the burgers, too, but understands that his brand is based on the fresh, family-run business catering to quick eat-in or take-out.  Another example is a small, family-run investment/wealth management firm tha
t I've worked with, who have built a successful business despite offices of all the major investment firms and banks on the same road (including Raymond James corporate HQ down the street).  The couple that started the business developed a brand strategy based on personalized, family service based on Christian principles.  Sure, the firm isn't going to compete with Schwab or Merill Lynch, but they have a loyal group of clients and have diversified into a couple other business services companies based on the same principles.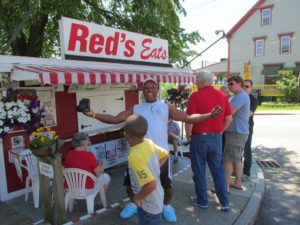 Finally, there are plenty of places to get lobster rolls in Maine and all of them are pretty good, but Red's Eats in Wiscasset on the Back River not far from Bath, ME, has created a brand that brings customers by the hundreds to stand in line for their lobster rolls (a pound of meat in every roll is the brand promise) and fried clams, served out of a small, food trailer right on US1 and the bridge over the river.  Across the street is a lovely restaurant with A/C and windows facing the river.  On a Sunday, there's no wait for a table, but across the street the crowd at Red's is testimony to a brand that brings them in from all over and bring them back again for more.  The list can go on and I'm sure you have some small brands that have big-time loyalty near you.  It's all proof that the important factor in a successful brand is to determine a customer need that other similar products or services don't provide or provide as well, and then communicate that value in an honest, consistent manner in everything you do.
So, let's raise a glass and toast the brands that may be small in size but big in loyalty…and success.